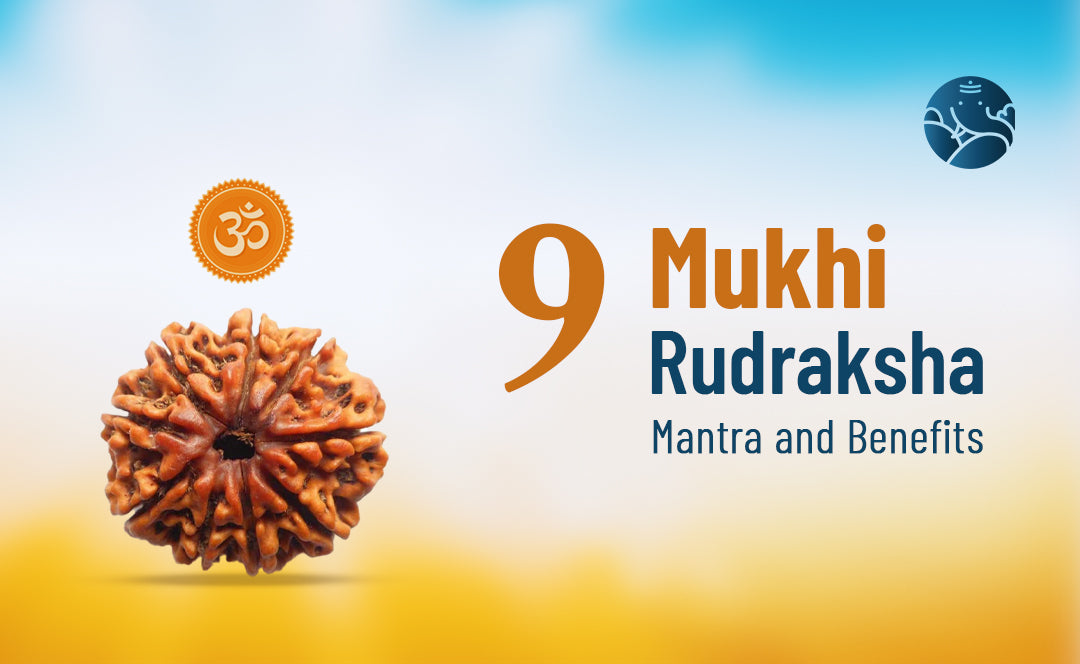 9 Mukhi Rudraksha Mantra and Benefits
The deities of Nine Mukhi Rudraksha are considered to be Navadurga and Bhairav. Its planet is Rahu. The person gets freedom from the liver, fever, deficiency in eyes, ear disease, progeny, sorrow, and diseases spread by touch.

Nine Mukhi Rudraksha is powerful for spiritual and material aspects and is ruled by the Divine Mother. Goddess Durga rules the rare 9 beads rudraksha beads, which hold the powers of all the nine goddesses known as Nava Durga. This Rudraksha bestows worldly pleasures and fulfills desires called Bhog and also grants salvation to the wearer. This mystic bead carries the divine powers of the Goddess and thus bestows spiritual awakening along with materialistic gains.

9 Mukhi Rudraksha is ruled by the Rahu. Nine Mukhi Rudraksha removes malefic effects of planet Rahu. People having weak Rahu in their birth chart can wear this bead.
9 Mukhi Rudraksha Mantra

ऊं ह्रीं हूं नमः

Om Hreem Hoom Namah
Importance Of 9 Mukhi Rudraksha
Nine Mukhi Rudraksha protects from the fear of evil spirits. It helps to win and rule over all kinds of enemies. It helps in building and enhancing relationships with Goddess Durga and blesses them with the power to destroy sins and worries. Removes the effect of Rahu planet. Blessed with bravery, courage, name, and fame. Makes the wearer positive, dynamic, and fearless. Regulates the functioning of the nervous system. Provides relief for neurotic disorders, and psychotic disorders like phobias, phobias, hallucinations, and anxieties. Provides relief from dizziness, vertigo, etc.
9 Mukhi Rudraksha Benefits


It is related to the Sahasra Chakra located in the brain which establishes our connection with the world. Nine Mukhi Rudraksha protects from the fear of evil spirits.



This Rudraksha is also worn to get victory over enemies. If the number of your enemies has increased then you should wear this Rudraksha. One can wear this Rudraksha to get the blessings of Maa Durga and to remove worries.



9 Mukhi Rudraksha helps in gaining courage, strength, name, and money. It controls the functions of the brain and nervous system. People suffering from vertigo, skin disorders, or any kind of phobia are benefited from wearing 9 Mukhi Rudraksha.



Nine Mukhi Rudraksha is a manifestation of Goddess Maha Durga and it protects its wearer from anything and everything that is harmful to him. This Rudraksha helps the patient to grow up, controls unnecessary anger, and imparts a sense of fearlessness. The wearer is gifted with endurance, bravery, courage, and their own name and fame.



It is said that Lord Bhairav ​​also blesses this Rudraksha and the wearer is no more afraid of "Yama" i.e. Lord of Death. The malefic effects of Ketu are controlled by this bead which is similar to Rahu and Shani. It also helps in gaining mastery and good command over foreign languages ​​by increasing one's vocabulary power.


Method of Wearing Nine Mukhi Rudraksha
Before wearing the original 9 Mukhi Rudraksha make sure you energize it. Saturday is the best day to wear a quality 9 Mukhi Rudraksha. Wake up on Saturday morning, take a bath and wear clean and fresh clothes. Face the Pooja Parivar of your home in the east direction. Chant the mantra with a concentrated mind and wear the Rudraksha.

You can wear this divine Nine Mukhi Rudraksha in silk/wool thread or have it encased in silver or gold. You can wear this Rudraksha bead around your neck or wrap it in a silver or golden-colored basket and wear it as a bracelet. The bead should be close to the skin to create resonance with the associated chakra. It is important not to touch the skin though for the bead to show its full effect. It is recommended to wear Rudraksha only to get the full effect.
Conclusion

9 Mukhi Rudraksha is extremely effective for the treatment of brain, lung, breast, and sexual organs, miscarriage, conception problems, epilepsy, and eye problems. If you want to know about the mantra and method of wearing 9 Mukhi Rudraksha, then talk to astrologers.