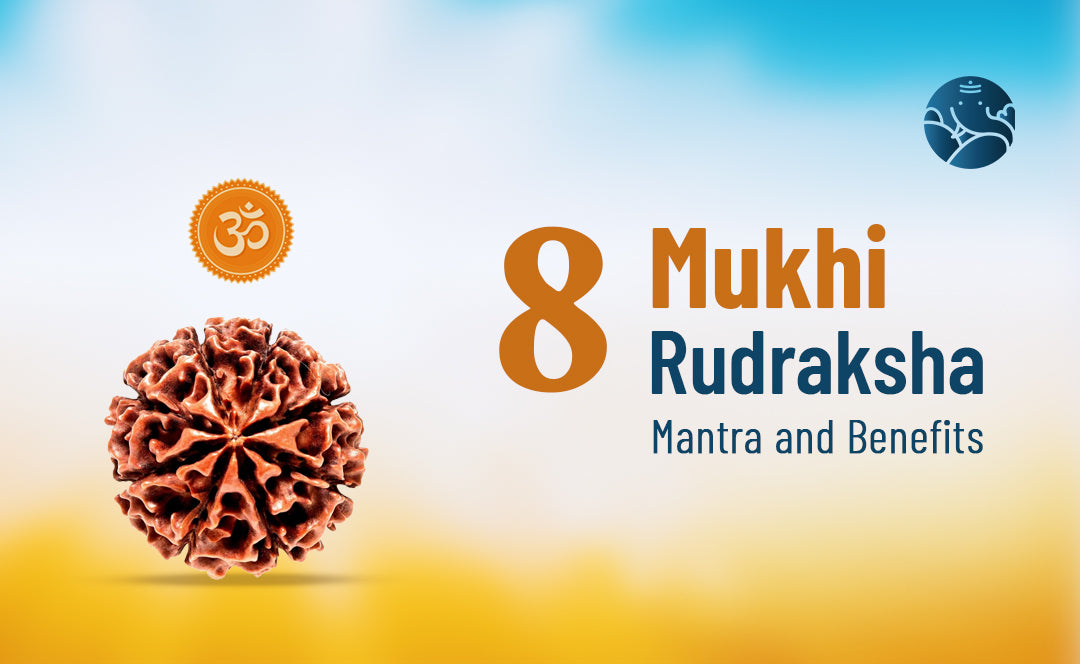 8 Mukhi Rudraksha Mantra and Benefits
The presiding deity of 8 Mukhi rudraksha is Ganesha Kartikeya. Eight Mukhi Rudraksha bead is a very auspicious bead for intelligence and awareness and to remove obstacles. The 8 Mukhi mala of Rudraksha is the symbol of Lord Ganesha. Lord Ganesha is the symbol of supreme devotion for parents. He promotes connection with the Roots to gain stability and strength to overcome all obstacles. Basically, Mukhi Rudraksha bestows the wearer with the ability to attain advanced wisdom, support, and stability in life.
The planet associated with Eight Mukhi is Ketu. Eight Mukhi reduces the negative effects of planet Ketu. Eight Mukhi Rudraksha is ruled by Ketu, which gives the person the results of his Karmic past. The other side of this planet symbolizes the understanding of the mystical wisdom of life. On the bright side, Ketu also gives sudden and unexpected results. 8 Mukhi Rudraksha removes the malefic effects of Ketu. One can chant Ketu mantras with this mala or wear them to please Ketu.
8 Mukhi Rudraksha Mantra
ऊं हूं नम: 
Om Hoom Namah
Importance Of 8 Mukhi Rudraksha
It helps in removing obstacles and brings success in all undertakings. It gives the power of smell and the power of initiative. It removes the vice of sadness, lethargy, and low energy. It enhances the connection with Lord Ganesha and blesses them with higher intelligence and wisdom. 
8 Mukhi Rudraksha Benefits
Eight Mukhi Rudraksha bestows the wearer with willpower, stability, and success. Ideal for people involved in intellectual pursuits, writers, students, educationists, and critics.




It is highly beneficial for businessmen and soldiers as it removes obstacles in one's path. It bestows positivity, satisfaction, and happiness.




It reduces diseases of feet and bones. This gives relief to arthritis. Removes mental lethargy, makes a person more active, and reduces obesity.




Eight Mukhi removes obstacles in one's path, destroys evils, and bestows success in all undertakings. This Rudraksha bead drives away lust/greed and improves bonding/relationship with the family. This Rudraksha also helps you to have support and stability.




8 Mukhi Rudraksha is considered to be the best benefit. The lord of the eight directions keeps within himself a source of unique energy. The blessing also remains.




Due to this, the person's intelligence and discretion work smoothly and the person himself becomes strong in getting solutions to many types of problems that come in everyday life.




Such people whose progress in life has stopped due to family conflict, there is only an atmosphere of fighting and fighting in the family and there is a lot of confusion in the relationship with the in-laws. This process is like the disintegration of family or marriage If it is going on, then in such a situation, they must wear 8 Mukhi Rudraksha.
Method of Wearing Eight Mukhi Rudraksha
The best day to wear 8 Mukhi Rudraksha is Wednesday. Wake up on Wednesday morning, take a bath and wear clean and fresh clothes. Face the temple of your house in the east direction. Chant the mantra 108 times with a concentrated mind and wear the Rudraksha. The best way to wear this auspicious bead is to wear it in a silk/wool thread or wrap it in silver or gold. You can wear this Rudraksha bead around your neck or wrap it in a silver or golden-colored basket and wear it as a bracelet. The bead should be close to the skin to create resonance with the associated chakra. It is important not to touch the skin though for the bead to show its full effect.
Conclusion
The malefic effects of Ketu are rectified by wearing 8 Mukhi Rudraksha. It is good for mysterious kinds, oppression by spirits, dreams caused by trauma, skin diseases, stress and anxiety, lung diseases, feet, skin, and eye diseases, and hydrophilic. Know more about 8 Mukhi Rudraksha benefits If you want, you can know through an astrology phone consultation.