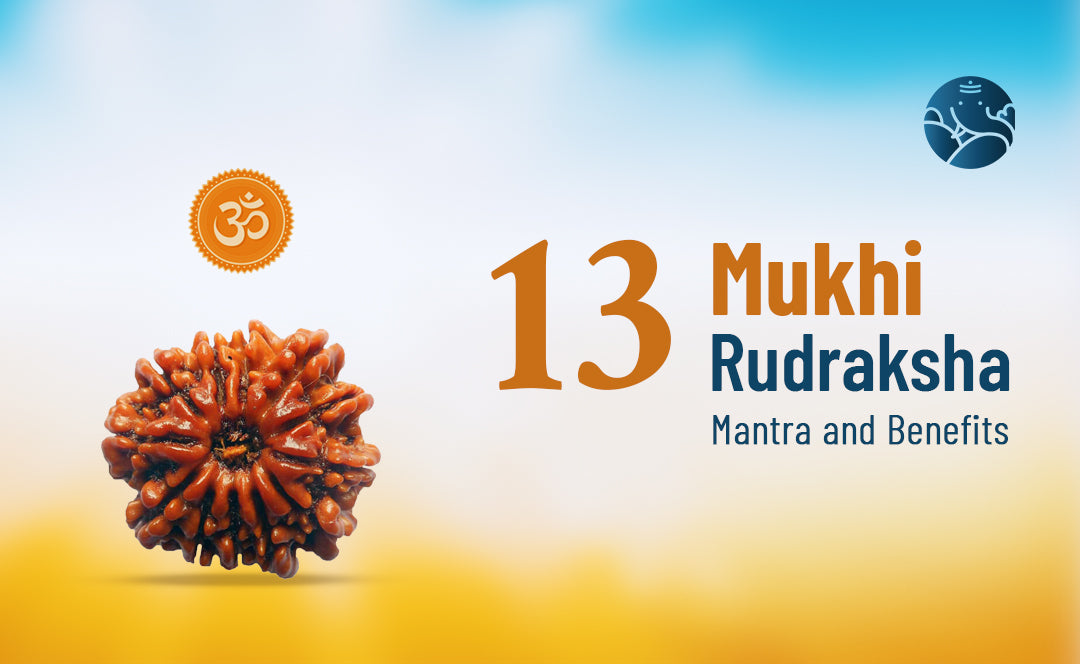 13 Mukhi Rudraksha Mantra and Benefits
Thirteen Mukhi Rudraksha is the bead of wish fulfillment. This Rudraksha represents Lord Kamadeva, the god of passion and desires. One who worships Lord Kamadeva is blessed with the ability to remove illusion from reality. The wearer of the original Thirteen Mukhi Rudraksha is blessed with an attractive, charming personality and magnetism. 13 Mukhi Rudraksha helps a person by connecting him with the right intention of the actions he performs and then fulfills the same. The wearer of the divine 13 Mukhi Rudraksha is blessed with charisma, charm, and fulfillment of desires.

Thirteen-faced deity Kamdev has been considered and its planet is considered to be the nine planets. By wearing this, the person gets an increase in wealth-prosperity, etc. The native gets freedom from diseases like impotence, miscarriage, liver, and kidney. Thirteen Mukhi Rudraksha rules the hearts. The planets associated with this divine and rare 13 Mukhi bead of Rudraksha are Venus as well as Moon. Hence, the wearer of 13 Mukhi Rudraksha is blessed with love as well as control over emotions. Thirteen Mukhi Rudraksha holds immense powers to eliminate all the illusions that bind and prevent a person from achieving his desires.
13 Mukhi Rudraksha Mantra

ऊँ ह्रीं नमः

Om Hreem Namah
Importance Of 13 Mukhi Rudraksha
An ideal Rudraksha for those who often miss more than hit in life. It pacifies the negative effects and afflictions of the Moon and Venus. It gives the coercive power of Attraction/Vashikaran to the wearer.
13 Mukhi Rudraksha Benefits


Wearing this Rudraksha strengthens the reproductive organs of women and removes all problems related to them. Wearing 13 Mukhi Rudraksha bestows luck and one gets all the pleasures of life.



13 Mukhi Rudraksha helps in warding off mental disorders and warding off the malefic effects of Mars and Venus. Heals back pain and strengthens mentally.



One can also wear this Rudraksha to face challenges and achieve victory. It helps in attaining a sound mind and body and enjoying various luxuries of life.



The wearer enjoys all materialistic pleasures like money, sex, and power.



It brings good luck in lotteries, gambling, etc. All sexual problems get cured. Planet Venus is also pleased by wearing it.



Since the ruling planet of 13 Mukhi Rudraksha is Venus, it bestows charm and popularity to its wearer. This Rudraksha bestows all materialistic pleasures as well as spiritual upliftment to its wearer.



A Thirteen Mukhi Rudraksha ensures that the wearer is victorious in challenging situations and that his destiny is available to him to his full potential. Lord Kamadeva also favors the wearer and fulfills all his worldly desires.



This Rudraksha is very beneficial for people who have to interact with people like leaders, marketing professionals, company presidents, etc.



This Rudraksha enhances the performance of its wearer by enhancing his charm and attractiveness. Hence this Rudraksha is also very good for those who are looking for True Love in their life.



According to ancient Vedic texts, 13 Mukhi Rudraksha helps in diseases related to muscles such as dystrophy, throat, neck, kidney, sex organs, thyroid, sexuality, dropsy, urinary and eye diseases, problems with conception, indigestion, arthritis, Arthritis, all obstructions in nerves and psychiatric disorders can be eradicated by wearing this Rudraksha.


Method of Wearing Thirteen Mukhi Rudraksha
Wear 13 Mukhi Rudraksha before wearing it. The best day to wear a quality 13 Mukhi Rudraksha is Friday. Wake up on Friday morning, take a bath and wear clean and fresh clothes. Face the Pooja Parivar of your home in the east direction. Chant the mantra "Om Hreem Namah", and "Om Kleem Kamdevaye Namah" 108 times with a concentrated mind and wear the Rudraksha.

You can wear this divine Thirteen Mukhi Rudraksha in silk/wool thread or have it encased in silver or gold. You can wear this Rudraksha bead around your neck or wrap it in a silver or golden-colored basket and wear it as a bracelet. The bead should be close to the skin to create resonance with the associated chakra. It is important not to touch the skin though for the bead to show its full effect.
Conclusion

A 13 Mukhi Rudraksha can be worn by a person who wants to influence people like entertainers, politicians, company presidents, professional negotiators, and professionals engaged in the fields of business, finance, research, and science especially medical science. If you want to know more about 13 Mukhi rudraksha then do an astrology phone consultation.