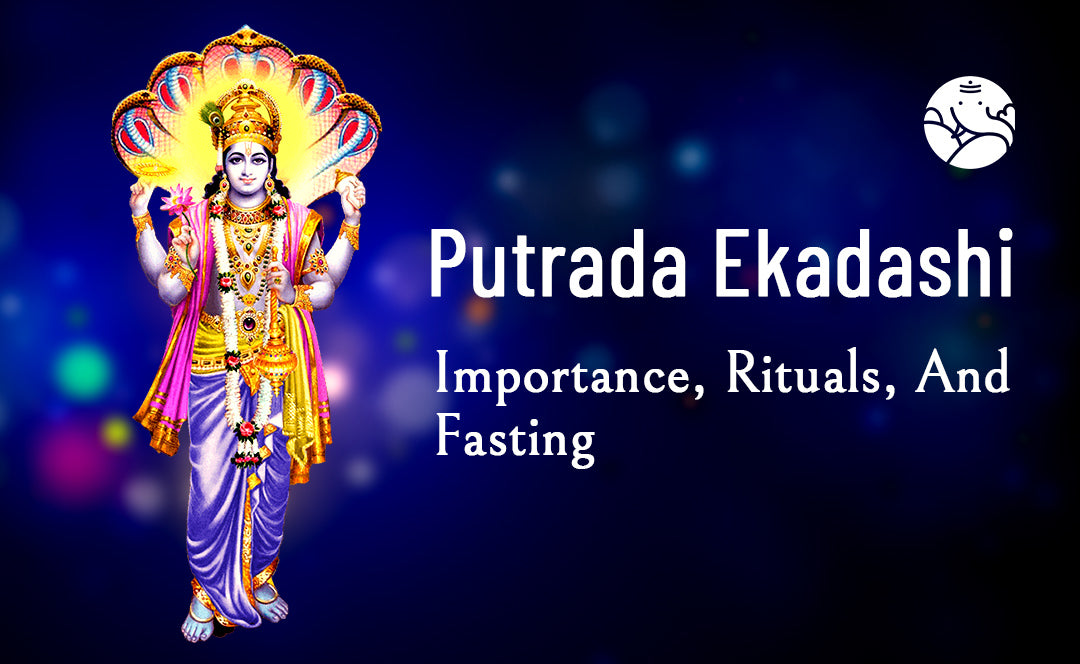 Putrada Ekadashi Importance, Rituals, And Fasting
Putrada Ekadashi is also known as Paush Putrada Ekadashi. It is said that on this day the way to heaven opens. It is a belief that fasting on this Ekadashi gives results equivalent to doing penance for thousands of years. Let us know the worship method, auspicious time, and importance of the Vaikunth Ekadashi fast.
Ekadashi fast is considered to be the most important among the fasts. By keeping fast on Ekadashi regularly, the restlessness of the mind ends, and wealth and health are attained. Problems like mental illness also go away from it. Ekadashi of Shukla Paksha in the month of Pausha is called Putrada Ekadashi. Lord Vishnu is worshiped on this day. Ekadashi of Paush month is considered special and fruitful. By keeping this fast, every worry and problem related to children is solved.
By observing the fast of Putrada Ekadashi, children are protected. Also, observing this fast has a positive effect on the children and their life is also longer. Whatever a woman or a man does, do this fast only by remaining waterless. By observing the fast of Pausha Putrada Ekadashi, a person is blessed with wealth, and all his sins are destroyed by the effect of the fast. Vishnu Purana must be recited on this day. By doing this, the problems and wishes of the person are fulfilled. Anyone who observes this fast is believed to have taken a bath in all the holy places and holy rivers like the Ganges. By observing this fast, one gets as much fruit as by donating a cow.
Putrada Ekadashi Muhurat
Putrada Ekadashi Sunday, 21 January 2024

Putrada Ekadashi Tithi Begins: 20 January 2024 at 07:26 PM

Putrada Ekadashi Tithi ends: 21 January 2024 at 07:26 PM
Putrada Ekadashi Puja Method
Lord Vishnu is worshiped on Ekadashi Tithi. Waking up early in the morning after taking bath etc., taking the vow of fasting, light a lamp of ghee in front of Lord Vishnu in the temple of your house and meditate on him. Must include Tulsi, flowers, Panchamrit, and Ganges water in the worship of Lord Vishnu. The fast of Putrada Ekadashi is kept waterless. If your health is not good then you can eat the fruit in the evening. On the next day of Ekadashi, provide food to the needy person and do donate as Dakshina.
Do these measures to get a child
Do you have a Childbirth Issue? this remedy should be done on the day of Putrada Ekadashi.
After getting up early in the morning and taking a bath, husband and wife should worship Lord Krishna together. Offer red, and yellow flowers, Tulsi Dal, and Panchamrit to Bal Gopal.


Take prasad after chanting the mantra and after the puja is over.



Donate and feed the needy.
Paush Putrada Ekadashi Story
Once upon a time, there was the kingdom of King Suketu in Bhadravati Nagar. His wife's name was Shaivya. Due to not having children, both the husband and wife were unhappy. One day the king and queen went to the forest after handing over the royal text to the minister. During this, the thought of committing suicide came into his mind, but at the same time, the king realized that there is no greater sin than suicide. Suddenly he heard the voice of Veda recitation and he kept moving in the same direction. On reaching the sadhus, he came to know the importance of Paush Putrada Ekadashi. After this, both the husband and wife fasted on Pausha Putrada Ekadashi and due to its influence, they were blessed with a child. Since then the importance of Paush Putrada Ekadashi started increasing. Those couples who are childless must fast on Pausha Putrada Ekadashi with devotion.
Conclusion
The Ekadashi that falls in the Shukla Paksha of the month of Pausha is known as Putrada Ekadashi. By fasting on Putrada Ekadashi, worldly wishes are fulfilled and by the grace of Lord Narayan, sons and grandsons are born. Talk to astrologers to know more about Putrada Ekadashi.