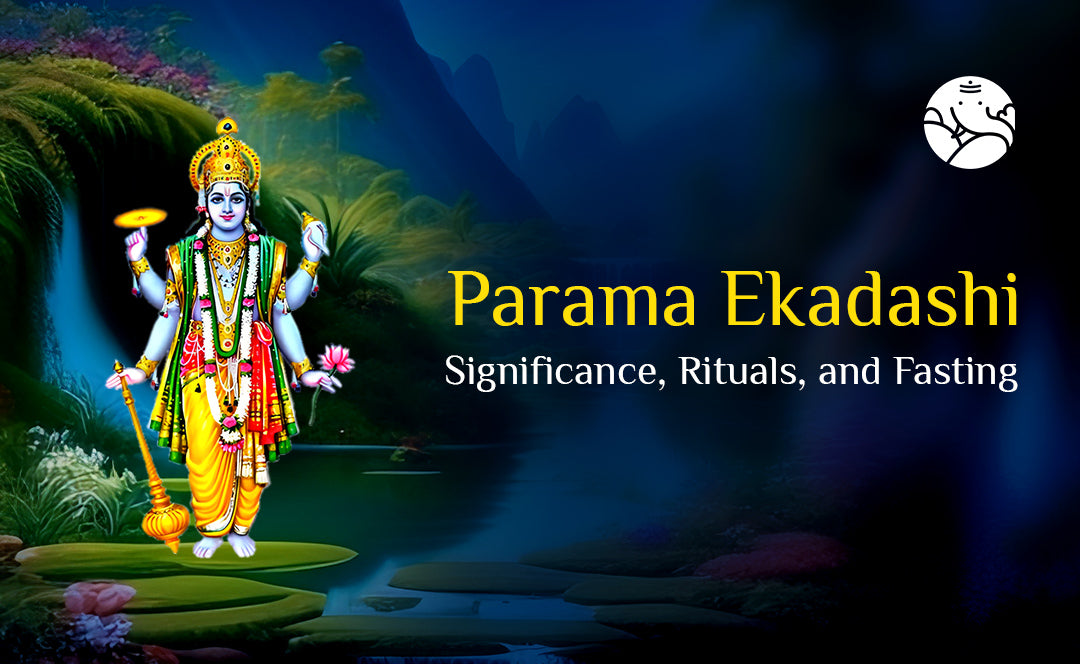 Parama Ekadashi Significance, Rituals, and Fasting
Parama Ekadashi falls on the date of Krishna Paksha of Ashwin month. By the way, the importance of this Ekadashi is like the fruit of many fasts for you too. But this time it is in excess. In such a situation, its importance is even more. According to religious principles, if a person observes this Ekadashi fast with a pure heart, he gets the blessings of Lord Vishnu. Along with this, the person also gets rare achievements. Along with this, gold donation, education donation, food donation, land donation, and cow donation also have special importance in this Ekadashi.
Auspicious Time For Parama Ekadashi Fast
Parama Ekadashi Date: Saturday, 12 August 2023
Parama Ekadashi Starts: 11 August 2023 at 05:06 Am
Parama Ekadashi Ends: 12 August 2023 at 06:31 Am
Significance Of Parama Ekadashi
According to the scriptures, the importance of charity on Parama Ekadashi is immense. On this day, if a person donates religious classification, grains, fruits, and sweets, then he gets auspicious results. Along with this, the virtue of fasting is also obtained. However, during this time it has to be kept in mind that when you are donating any religious book, donate it with faith in God and religious discourse. A person should donate according to his rating.
Rituals Method Of The Parama Ekadashi Fast
The method of this Ekadashi fast is difficult. In this fast, fasting is observed from five days till Pancharatri. In which everything from nuclear energy to water is sacrificed. Only Bhagwat Charanamrit is taken. There is a great virtue and fruit of this Pancharatra. The worship method of the Parama Ekadashi fast is as follows:




On this morning, after taking Kaal Snan with Lord Vishnu, a resolution should be taken with water and fruits in hand. After this God should be worshipped.




Shri Vishnu Smaran Vrat should be followed till 5 days after this.




After giving food to the Dakshinayan Brahmin and sending him away along with donations and Dakshina, the fasting person should eat himself.
Parama Ekadashi Story
Shri Yudhishthirji said - Hey Janardan! Now you have come to know more about the names of Ekadashis of Krishna Paksha of the month and the method of their fasting. Shri Krishna said, O Rajan! The name of this Ekadashi is Param. By observing this fast, all sins in this world are destroyed and liberation is attained in the hereafter. While observing this fast in the aforesaid method, worship Nakshatra and Narottam God with incense, lamp, naivedya, flowers, etc. Let me tell you an interesting story of this ancient thing that happened to the sages in the city of Kampilya. You meditate on the unheard hearing. A Brahmin named Sumedha lived in Kampil Nagar. His wife named Pavitra was very chaste and virtuous. He was very poor because of some previous birth. He also had alms literature on Bhiksha Mitra. She was always useless about clothes. The husband's service remains. She used to starve herself after eating the food of the guests and never asked for anything from her husband.
When Sumedha saw his wife very weak, he said - O dear! when I'm rich When I ask him for money, he does not give me anything. The household runs only with money, what should I do now? So if there is any opinion then I should step into the country. On this, his wife said humbly - Husband! Whatever good or bad the husband says, the wife should do the same. Those who donate knowledge and land in the previous birth are called education and land in this life. If a man does not donate, then God only gives him food. I can't bear your separation. In the world of husband and wife, mother, father, brother, father-in-law, and relatives, etc. condemn, so you should stay in this place.
Once upon a time, Kaundin Muni came to that place. To see here the woman along with Sumedha prayed and said - We give thanks today. Today our life has become successful because of your darshan. They provided a place to sit and food. After the meal, Pavitra said, O Muni! You tell me the solution to destroy poverty. I bought my husband from the country in search of wealth. You have come by my luck. I say that now my poverty is soon destroyed. Basically, you tell me any fast which destroys our poverty. On this, Kaundinya Muni said that by fasting on the Parama Ekadashi of the Krishna Paksha of Malmas, all sins, sorrows and poverty, etc. are destroyed. The person who fasts becomes rich. In this fast one should keep awake the night by dancing and singing, by observing this fast Mahadev ji made Kuber rich. Truthful Harishchandra got the effect of this fast on his son, wife, and state. That Rishi Vidhi told all the things about Uttaratri Vrat. That monk again said that Brahminji! Pancharatri Fast is even better than this. On the day of Parama Ekadashi, early in the morning, after retiring from daily work, the Pancharatri fast should be started methodically. Those people who keep a waterless fast for five days , go to heaven along with their parents and wife. Those who eat for five days go to heaven. Those who bathe for five days and cook food for Brahmins, get the fruit of eating food in the whole world. The person who donates a horse in this fast gets the fruit of the donation of all three worlds. Those people who donate sesame seeds to the best Brahmins, go to Vishnu Lok equal to the number of sesame seeds.
Those who remain engrossed in celibacy for five days enjoy happiness in heaven with the gods and goddesses. Oh holy! Do this fast with your husband? They will get Sir Siddhi and in the end, they will go to heaven. According to Kaundinya Muni, he had observed a fast for five days. When the fast was over, she saw that the prince was in front of her. The prince created a perfect planet on which all things were punished to live. The prince went to his palace in a village. With the effect of this fast, both of them went to heaven after enjoying eternal happiness in this world. Shri Krishnaji said that O Rajan! the man who
By fasting on Parama Ekadashi, one gets the fruits of all pilgrimages, donations, etc. Just as in the world, the Brahmin is the best among the two shifts, the cow is the best among the four shifts, and Indraraj is the best among the gods, in the same way, among the months, the month of Adhik (Laund) is the best. In this month, there is a lot of virtue of Panch Ratri. Padmini and Parama Lakshmi are also best in this month. By fasting all the sins become Krishna. A weak person must fast. The person who does not observe bath and Ekadashi fast for a long time commits the sin of suicide. This human vagina is full of great virtues. That's why man must do Brahmand Vrat.
Hey! That's what you asked me. I told you now you are its fasting devotional unbeliever. Those who fast on Parama Ekadashi of Adhik Maas enjoy the same happiness in heaven as Lord Indra and are worshiped in all three worlds.
Conclusion
In this fast, fasting is observed from five days till Pancharatri. Devotees worship Lord Vishnu with full devotion. After this, Brahmins are fed and donations are made. It is said that whoever fasts and worships on this day, all his troubles go away. Lord Shiva is also worshiped along with Lord Vishnu on this day. If you want to know more details about Parama Ekadashi then you can take online astrology consultation.