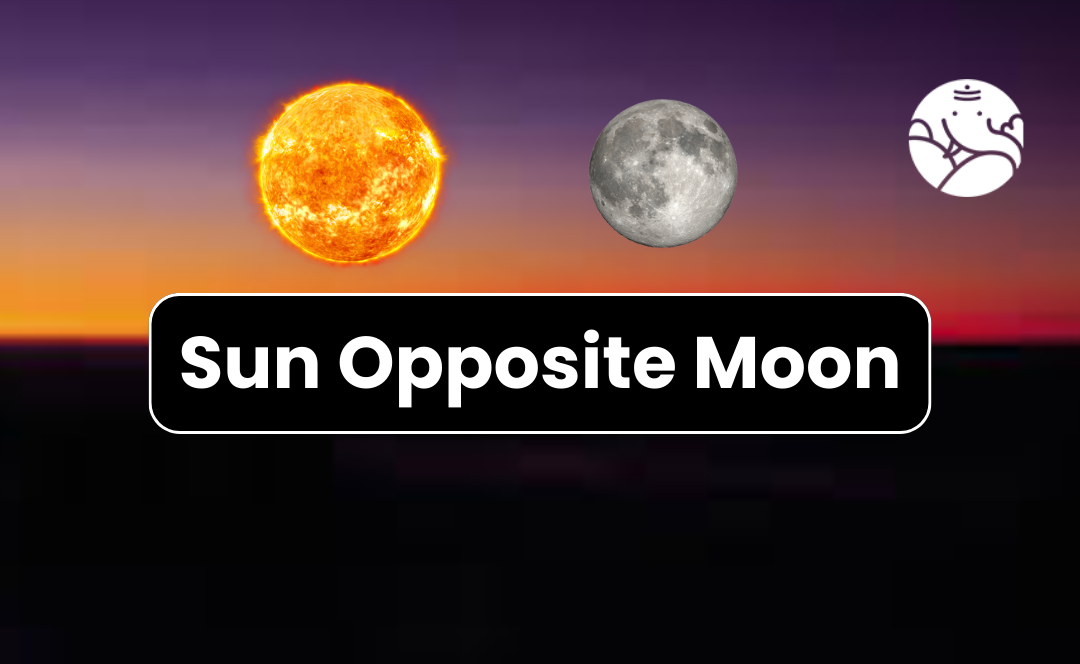 Sun Opposite Moon
People born when the Sun and Moon are in opposition to each other have an internal conflict between their needs and their desires. Unlike the Sun-Moon conflict personality, the Full Moon personality lacks focus and indecisiveness. Their ability to be objective is both an asset and a liability, simply because when they decide on one path, they are at the same time pulled in another direction. Something pulls them away, and they begin to question their stance. 
The child will learn to understand through simple debate, or this can be seen directly in arguing with friends and peers. They are likely to seek the views of friends to gain confidence, but they will make up their minds. The child will still argue the point because other people's opinions will be the norm for this child, not the rulebook. There will be a tendency to have strong opinions, and these children will usually fight for what they believe is right. But they want and need those alternative ideas and ideals. The choices give a sense of perspective to the original philosophy.
Your inner self will feel like it is in a constant state of trying to make peace with your feeling, emotional side. Yet, this lack of perfect harmony within yourself can provide the spark that propels you to personal achievements.
Most likely there must have been some sort of tension between your parents. Even if it is not expressed openly, you picked it up as a child. As a result, you may have internalized expectations that there should be a certain element of conflict in the relationship. Whatever the case, it also means that the parents somehow kept each other in line.
People with Sun and Moon oppositions, in particular, are usually inclined to solve problems in relationships because of their acute awareness of and sensitivity to conflicts that may arise in their partnership. However, if they are faced with a partner who at first denies the problems, as in the example above, they can easily become discouraged. This is because learning and growing through relationships is a basic urge stemming from basic that it is a need. These natives are learning about themselves through their relationships, and they need partners who are willing to be a part of that process.
Sun Opposite Moon Natal
If you were born with the Sun opposite your Moon, it means you were born during a full moon. An ideal amount of moon light on the day you were born symbolizes the importance of a life purpose, a belief system that you wish to manifest. Moon in opposition to your Sun also reflects the thematic polarity of self versus others. This indicates that relationships with others will be a continuous source of learning for you. Relationships and the feedback they provide give you the objectivity you need and help you clarify your life's purpose. It will be important for you to learn to integrate your own internal tensions, so as not to project your own issues into your relationships. Similar to the tidal force of a full moon, your emotional expression can be powerful and dramatically affect those around you. Ideally, you can find a bigger context or bigger reason to express the tension between your Sun and Moon.
Sun Opposite Moon Synastry
Sun Opposite Moon Synastry make you constantly oppose your ideas or goals. Taking out anger or resentment damages close relationships. You may feel pulled in two directions. If your life is one of endless indecision and emotional turmoil, you need to recognize that the struggle is within you. In times of stress, you will find "what works for you" and use your immense energy in a positive way.
You will find yourself torn between an environment that is very comfortable and supportive versus a real need to grow, progress, and move forward on your own. You are always being caught in the middle, forced to choose between environments that are supportive (but not progressive) and new directions that bring advancement that may be at the expense of your comfort. Making these two opposing directions work together can require some real compromising skills on your part. This can manifest as a love of history versus future trends, old man versus young, and so on. 
Sun Opposite Moon Transit
You now have an enhanced ability to reflect more objectively on your circumstances. When the transiting Sun opposes your natal Moon, you become more clear about what's working well and what isn't. The transiting Sun will be able to help illuminate the underlying unconscious forces behind the external stresses and challenges in your life. It would be worthwhile to engage in any exercises that help you with internal analysis. Instead of trying to overcome restrictions or obstacles by exerting more force, use today to increase your understanding of the situation. Try to consider whatever dynamics are happening as part of the challenge or difficulty. Allow a thought for a solution to enter your awareness, and then use the days and weeks ahead to improve your circumstances. In personal relationships, you will spend a lot of time understanding your inner feelings.
Conclusion
Sun Moon brings awareness through protest agreement. Conflict within the opposition may involve internal or external issues. This creates unstable energy flow. These kids need to learn to take advantage of the highs and relax during the lows to get things done. Emotions and basic will compete, so these children can be overly rational or, alternatively, extremely emotional.If you want to know more about the Sun Opposite Moon, then talk to astrologers online.