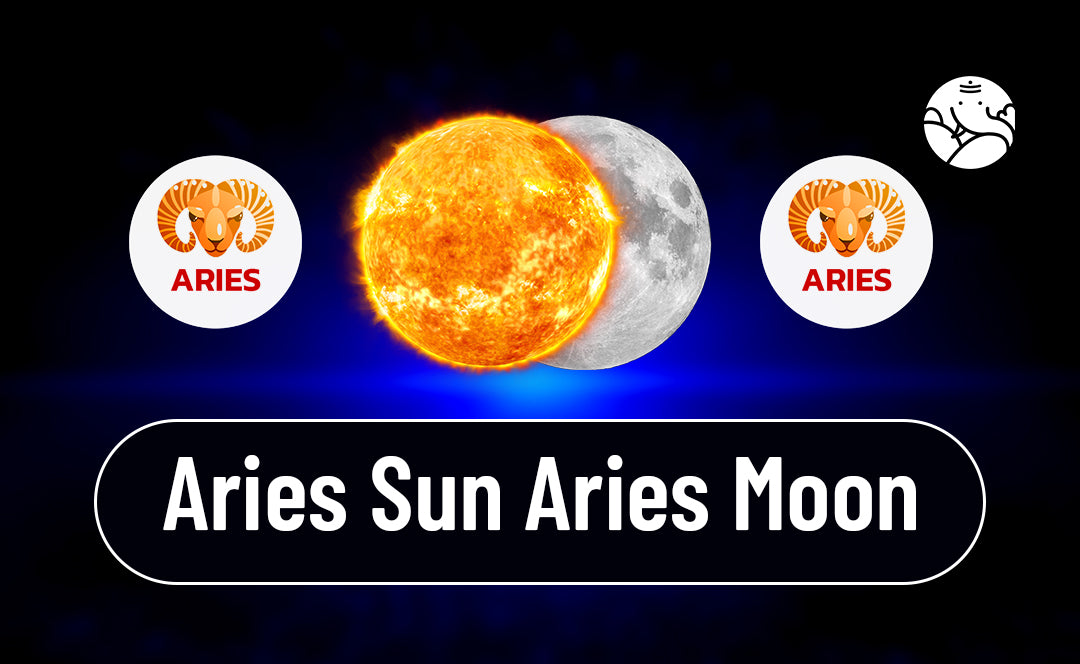 Aries Sun Aries Moon
When it comes to Aries, they don't like someone telling them what to do. For this reason, their nature becomes dry many times. They start interfering in the affairs of others. However, this shows how powerful they are. They have a strong heart, due to which they are able to spend their life well without being influenced by anyone. Aries people love adventure and are not afraid of any kind of trouble. They face every difficulty with courage. Even if there is little danger in it. In Aries, which is ruled by Mars, the fiery planet Sun is exalted. According to Vedic astrology principles, the position of the Sun in Aries will bring positive results for the native. 
Aries Sun Aries Moon Man 
Personalized Prediction states that as a guy with an Aries Sun and Aries Moon combination, your biggest talent is organizational skills and you utilize every available tool to ensure that you're doing all in your power to keep fortune on your side. This is because the Sun or Moon is in Aries, which favors doing anything you can to maintain chance on your side. The Aries's combination of these Attitudes and dispositions generally concur with more mystical ideas, which hold that kindness will rebound to you if you give it out into the cosmos. If you are a male with an Aries Sun and an Aries Moon combination, you will hold your valuables close to your heart. Despite your ability to empathize with others and relate to them, this individual with the Aries Sun and Aries Moon is very friendly. Horoscope foresees that you will not reveal much of yourself. 
Aries Sun Aries Moon Woman 
According to Personalized Prediction, having an upbeat mindset and having an Aries Sun and Moon will benefit you. As a result, you try to be a decent person and a trustworthy companion. On the other hand, with this Aries combo, your enigmatic demeanor compels others to want to learn whatever there is to know about you. Even if you wouldn't try it, you end up with a sizable social connection. On the other side, people could find it challenging to connect with you, which could cause problems in your private life. The negative effect of this Aries combo is that you want to be with someone but are unable to approach them. Even if you know for sure that you are interested in taking help, you will hardly ask for it. 
Aries Sun Aries Moon Personality 
By using the person's date of birth, a personalized prediction can tell much more about them. The placement of the Sun and Moon within your zodiac sign may be used to make precise forecasts about your life. The individual with an Aries Sun and Aries Moon combination has a charismatic and persuasive attitude. They seem to be extremely honest and dutiful people, but if they attempt to accomplish a great deal simultaneously, they frequently cause problems. 
Aries Sun Aries Moon Love 
Aries Sun and Aries Moon combination, according to love marriage astrologers, indicate that the individual won't have many indiscretions and will be somewhat spiritually slothful in their partnerships. People with the Aries Moon and Aries Sun combination will go to their companion for intellectual and philosophical assistance. They have a better chance of finding their life spouse while they are very little. If examined by an experienced astrologer, numerous individuals with an Aries Sun and Aries Moon combo may discover remedies to their relationship troubles. 
Aries Sun Aries Moon Marriage
The lifelong companion or spouses of people with an Aries Sun and Aries Moon combination will be the most mindful, loyal, obedient, and compassionate, according to marital life prophecy. Arranged marriage is the most likely outcome, yet it will be relaxing, appealing, thrilling, and fruitful in the young person's life. The contentment and concord of a person's marriage Predictions.  The husband or wife will take care of and value the person's family. 
Aries Sun Aries Moon Career
Based on the Career Report Astrology for those with an Aries Sun and Aries Moon combination, they have a favorable terrestrial track in life due to the location of the Sun and Moon in Aries. They will create incredible riches on the exterior in various ways since they are equipped with an impressive and respectable financial status. They are also surrounded by lovely images of relationships. These people are gifted with strong cognitive ability, which is the main quality of the wealth route, and they are also fortunate enough to have access to various sources of revenue.
Conclusion
Overall, if you are an individual with a combination of Aries Sun and Aries Moon and are looking for ways to make your life better, you must talk to astrologers and get a personalized horoscope.