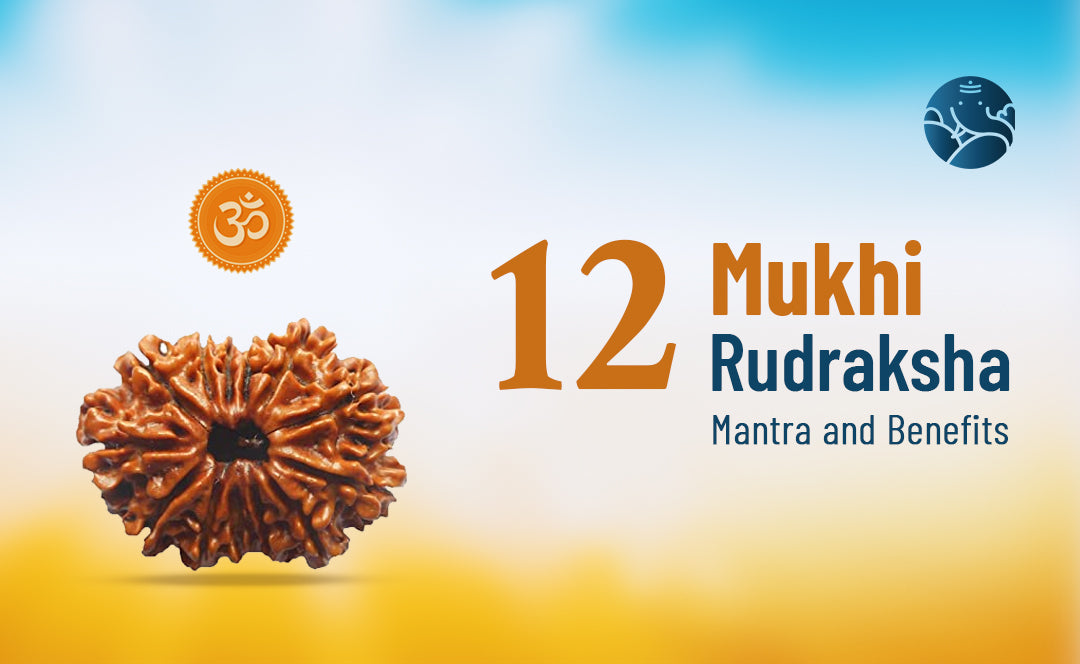 12 Mukhi Rudraksha Mantra and Benefits
Twelve Mukhi Rudraksha is a Rudraksha of power and light and is ruled by the Sun. Twelve Mukhi Rudraksha teaches the wearer the importance of the present moment, the here and now, and helps us focus on the present and learn that the real potential lies only in the now. This divine Rudraksha bead frees us from the physical, mental, and emotional dependence that we rely on from the outside world and teaches us to awaken our self-power. This bead makes the personality of the wearer as bright as the sun.

12 Mukhi Rudraksha is ruled by the planet Sun. The deity of twelve Mukhi rudraksha and the planet Sun has been considered. By wearing this, the person becomes wealthy and sharp. With its effect, one gets relief from body pain, headache, eye problems, heart diseases, urinary diseases, etc.
12 Mukhi Rudraksha Mantra

ॐ रों षो नमः ॐ नमः

Om ron sho namah Om namah
Importance Of 12 Mukhi Rudraksha
12 Mukhi Rudraksha gives luster, shine, luster, youth, and vitality. It gives strength and power for timely action. It pacifies the negative effects and afflictions of the Sun. It makes one fearless and powerful and ready to take action using his knowledge. It helps businessmen, families, politicians, managers, leaders, and public administrators to achieve greater success in their fields of name, fame, and abundance.
12 Mukhi Rudraksha Benefits


Wearing 12 Mukhi Rudraksha reduces the malefic effects of the Sun and benefits in areas related to the Sun. With the effect of this Rudraksha, a person becomes powerful and fearless.



If self-confidence is low, then you can wear 12 Mukhi Rudraksha to increase it. Mental, physical, and emotional strength can be obtained from the effect of this Rudraksha.



This Rudraksha reduces dependence on others. Helps to calm stress, anxiety, and anger.



12 Mukhi Rudraksha can be worn to control the functions of the digestive system. This Rudraksha is helpful in pacifying diseases related to Vata and Kapha.



The wearer of Twelve Mukhi Rudraksha becomes energetic, brilliant, radiant, and strong with the blessings of Lord Surya. It is also believed that this Rudraksha represents the "12 Jyotirlingas" as well as the twelve forms of "Aditya" i.e. Lord Sun.



Wearing this Rudraksha reduces all the worries, fears, and doubts of a person. Any person who wears twelve Mukhi Rudraksha becomes capable of leading a happy, healthy, and wealthy life.



As per ancient Vedic texts, 12 Mukhi Rudraksha is clinically beneficial for treating diseases like bone diseases, rickets, osteoporosis, mental retardation, anxiety, etc.



Women are advised to wear this Rudraksha as they face bone problems. As per ancient Vedic texts, this Rudraksha is considered a remedy for ailments caused due to unfavorable placement of the planet Sun in the horoscope, such as right eye, bones, mental anxiety, old age, and with heart ailments.



Method of Wearing Twelve Mukhi Rudraksha


The divine and rare 12 Mukhi beads of 12 Mukhi Rudraksha should be worn on a Sunday. Follow the procedure to activate the bead Wake up at dawn on Sunday morning. Take a bath and wear clean clothes. Make sure the area where you are going to sit and chant are clean. Now hold the bead in your hand and chant the mantra "Om Ron Sho Namah Om Namah" 108 times with full concentration and wear the Rudraksha. You can wear the 12 Mukhi Rudraksha bead in a bracelet or rosary strung in a silk/wool thread or you can keep it capped in silver or gold. The Rudraksha bead should touch your skin so that it gets activated and starts working on particular areas.
Conclusion

12 Mukhi Rudraksha can be worn by all those people who are in the field of administration, business, or politics to get name, fame, power, and success. If you want to know more about 12 Mukhi rudraksha then do an astrology phone consultation.